If you are creative and love papercrafts, then a wedding stationery business could be for you. Here are our top tips to help you get started:
First of all, is it for you?
Pros:
can be run from home
does not require a large upfront investment.
can work flexible hours around other commitments
Cons:
very competitive and you will need to work hard and smart to make a living wage.
the work can be repetitive – will you be happy tying 100 ribbon bows at a time?
seasonal – everyone seems to order their stationery in January.
So how do you start?
Define your style and technique – printed, letterpress, embellished, laser-cut. There are lots of options – browse the marketplace and choose a method that suits your style. As well as invitations, you should offer the full range of stationery items – from save the date cards through to orders of service and thank you cards.
Define your target market – it's best to decide on budget, mid-range or top-end rather than cater for everyone. You can then create your designs accordingly and concentrate your marketing.
Create your marketing and business plan first – then work on your designs. Hard, I know, when you are brimming with ideas. But unless brides know about you, your lovely designs will never be used.
Research your competitors – what are they charging, how do they handle ordering, where are they advertising – but DO NOT copy any else's designs. All designs are automatically protected by copyright – make sure you understand the copyright laws and what you can do to protect your designs.
Choosing suppliers
Good quality suppliers are critical for a stationery business.From the card and envelopes to embellishments like ribbon, you will will need consistency and responsiveness as well as quality and value for money. You don't want to get 90% of the way through an order and then discover you can't get any more of the right shade of card.
If you plan to print items yourself you will need to purchase a high quality printer.Make sure it can handle the thickness of card you plan to use.
Many stationery designers outsource the actual printing to a specialist print shop. Talk to local printers about your needs and how they could help.
Marketing your Business
A good, mobile friendly and search engine optimised website is essential these days. Make sure yours can be easily updated and that you get great photos of your designs.
Most stationers offer the facility to order online. This is not essential when you are just starting out but it's a good idea to choose a website platform that can be extended to give this option as you grow.
As an alternative to your own online shop consider using an online marketplace like Etsy to sell your products – this takes card of all the "back-end" side of things. But you will still need to market your shop and pay attention to search optimisation and photographs. Check out this article for top Etsy tips.
Use social media to build a buzz about your designs and bring visitors to your shop. Create a great looking Facebook page and update it regularly. Instagram and Pinterest are also very popular for wedding planning and Twitter is good for networking and making contacts.
Wedding Fairs get a mixed response from stationers – often brides at fairs are at the wrong stage of their wedding planning (too early or too late). But they do get you in front of lots of brides actively searching for suppliers and are brilliant for getting feedback.
Pricing your Stationery
Make sure you know how long each design takes to put together. Look for tweaks which will speed up the manufacture without compromising the design.
When setting your pricing you will need to consider
the cost of materials

the time taken to make up

the time spent on proofs and customer service

overheads such as marketing, accountancy

the cost of packaging and posting the order to the client
Don't underestimate the value of your time – you may not expect to get rich but you will want to make a profit!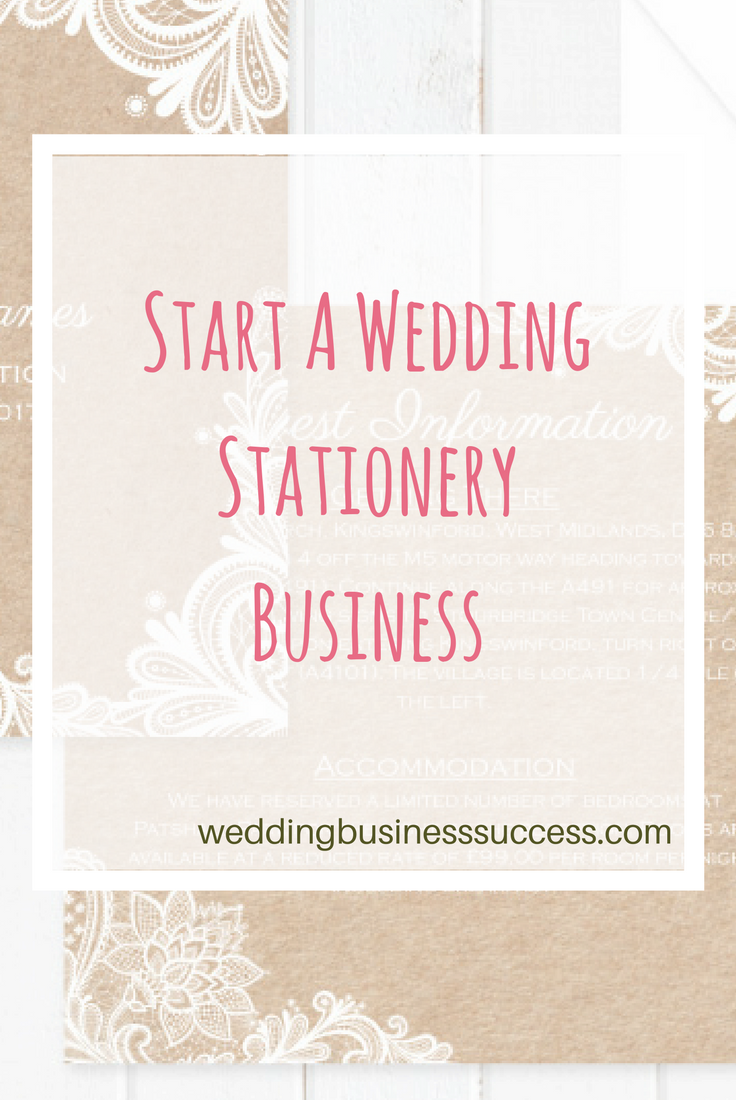 Practicalities
Begin with a small portfolio of designs and build it up as you discover what sells. Even if you plan to do mainly bespoke work you will need some sample designs to attract customers.
Brides usually want to see samples before they commit. Work out what you will charge for these and whether you will refund the cost of samples when a full order is placed. Offering free samples is also an option, but beware of "sample collectors" – you can waste a lot of time and energy sending samples to people who never order. A nominal charge will ensure the potential client really is interested in your work. Put in place a follow up process – don't just send samples and forget about it.
Your terms and conditions need to be clear and carefully thought out. Mistakes can happen – ensure the client is responsible for approving wording etc. You will also need to decide on a payment schedule (e.g. 100% up front, 50% deposit with balance before dispatch) and what payment method you will use.
Once you are ready to go – be patient! It will take time to build up your reputation and client base.
Save
Save
Save