James & Kerrie Sapphire are a husband and wife team who are also the best of friends! Together they own James & Kerrie Photography. After 3 years building their business they are now fulfilling their dream of becoming full time photographers. Here they share their journey and top tips.
What does your business do?
We specialise in natural documentary style wedding photography. We also love to shoot engagement sessions as they are such a great way to get to know our couples!
When did you start?
We photographed our first wedding in October 2013. We photographed our very first paid wedding in May 2014.
How did you get started?
Friends of Kerrie's sister saw our photos on Facebook and they asked us if we would photograph their wedding in Italy! We jumped at the chance! It was a life changing experience for us.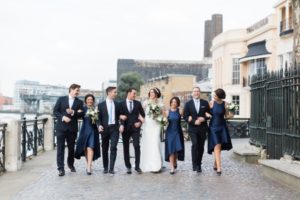 Why did you choose this particular business?
James has always been into photography since he went backpacking around Australia in 2004/5. He started photographing family and friends as a hobby, and he used to teach photography to beginners on a one day course. He started teaching Kerrie how to use her camera, and when we were asked to photograph our first wedding, we absolutely knew we wanted to be wedding photographers as we loved every single moment!
Can you describe a typical working day?
Every day is different! One day could be emails & blogging, the next photographing a ten hour wedding, or editing images & client meetings. Until recently, Kerrie also worked her full time office job alongside the photography but she has now gone part time and James plans to join her full time next month too. Exciting times!!!
How do your customers find you?
At first it was through Facebook. Now a lot of our clients find us via word of mouth from our past bride & grooms, or they meet us at a wedding and love how we work so book us for their own wedding! We are also preferred vendors at the Trafalgar Tavern in Greenwich, we regularly exhibit at their wedding fair so we get to meet future bride & grooms at the fair, we love hearing all their stories of how they met and the proposal!
What's been your best moment so far?
Wow, that's a tough one! We have so many good moments to choose from. For James, being driven around Sanford Springs golf club in Newbury on the wedding day in a golf buggy! We had the bride & groom behind us in their own buggy, it was so much fun! For Kerrie, being driven through Hyde Park in a Rolls Royce with the bride & groom to get photos of them by the lake. The groom is a Captain of the Army and he was in full uniform. We gathered quite a crowd that day, it was amazing!!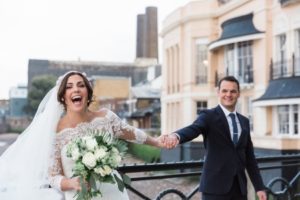 And the worst?
Worrying about your bookings for the following year. We always panic that we won't get enough weddings booked for the next year, but you have to stay positive and keep getting your work/name out there as much as possible! The bookings will come.
Anything you wish you had known when you started?
Don't say yes to every enquiry! You find yourself working non stop because you want to take on every job. We wish we knew it was ok to say no now and then and rest. It's so important to look after yourself as well as working hard.
What's your biggest challenge going forward?
Building our photography business so we can book enough weddings to go completely full time. That is our ultimate dream.
Do you have a top tip for someone starting out in the wedding business?
Be prepared to work hard, we were told it takes 3-5 years to become a successful wedding photographer. If you fail at something, dust yourself down and try again. We believe in the motto -Will it be easy? No. Will it be worth it? Hell yes! And always be honest about what you can do and what you can't do, you always want to under promise & over deliver.
You can find out more about James and Kerrie on their website www.jamesandkerriephotography.co.uk