Christina Barker set up Chantilly Rose Weddings & Events after a relocation and a chance meeting with a Facebook contact. Here she shares what she's learnt in her first year as a wedding planner – a business that many dream of but which is difficult to establish.
Over to Christina…..
What were you doing before?
I managed a group of maintenance professionals within the maritime industry. It involved a lot of admin and technical knowledge. Before this I was in the motor industry where I had a variety of jobs throughout my time there including marketing and events. Wedding and Event planning has always been my passion though.
How did you start?
After leaving my job as a technical assistant, I moved house to Oxfordshire along with my family due to my husband's work in the RAF. At the time of moving, I didn't know anyone so set up a Facebook page about the local area. Using this, I advertised local businesses, news and events. I had a message from a lady in the events industry who wanted to advertise her event decor business. We ended up meeting for a drink and quickly became friends.
She started to explain how she wanted to host a wedding competition so that a couple in the military or emergency services could win their wedding day but she needed help in doing this. I instantly saw the perfect opportunity to be able to help a couple by pledging a year of my life in which to plan and carry it out.
After their big day was over I knew I definitely wanted to pursue a career as a wedding and event planner. I started working on my website, services and advertising. I also trained with The UK Alliance of Wedding Planners and became a member.
Why did you want to do this?
I love the feeling you get on the day of the wedding once the brides vision comes to life. The smile on their faces is worth all those months of hard work.
How has your first year gone?
It has been very challenging but enjoyable. Wedding planning involves a lot more work than what I had originally thought but I am learning something new all the time and I have loved every minute of it.
Research takes hours and hours, it involves not just sourcing from the internet but from other contacts and then visits involve a lot of travel time and costs. Something I didn't think too much about at the beginning. Planning a couple's wedding from beginning to end is a complete honour.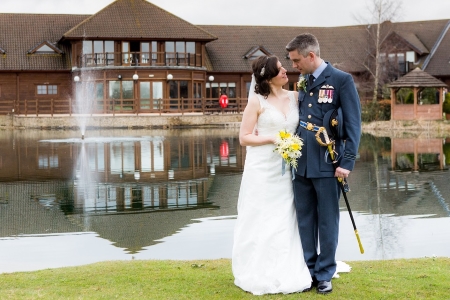 How do your clients find you?
I found my clients via supplier recommendations and word of mouth mostly but people also tend to just Google search local wedding/event planners.
What's been the biggest lesson learned?
Not to worry so much about every little detail. Being as organised as I am, I like to make every detail count, such as the schedule being to the minute. It often doesn't flow at the exact time or even in the correct order sometimes but that's OK.
Attention to detail is a big thing for me. I can't help but try to adjust everything to be perfect.
Top tip for other newcomers?
Research the wedding industry and your chosen sector thoroughly before diving straight in to it. Stick to doing one thing well and being known for that one thing.
You can find out more at the Chantilly Rose website and follow Christina on Facebook and Twitter
Save
Save
Save