Karen & Rich of Grin, Grimace & Squeak sell their fabulous masks around the world. Here they tell us how they use Etsy to build their business – and how they landed their dream order for a wedding party in India.
What does your business do?
We design and make masquerade masks and accessories. Around a third of our business these days comes from custom orders, most of which are for weddings. While classic styles and themes are still popular for weddings, it's been interesting to watch the increase in popularity of more personal choices for couples which reflect their individual tastes.
When did you start?
We started online in September 2009 after a year or so of design and researching the business side of self employment.
Why did you choose this particular business?
We have very different and complimentary skills – I'm an artist and Rich apprenticed as an armourer so something in costume design seemed the obvious choice. I'd made a small mask for myself for a party which had gone down well so we decided to take the enamelled wire I had left over and see what we could do with it. We haven't looked back since.
How did you get started?
Our business really started when we discovered Etsy. We'd been sending out pictures by e-mail to various shops and blogs but had no online portfolio or place for people to buy. An alternative wedding blog we admired featured Etsy sellers quite heavily so we decided to check out what we thought at the time was some obscure American thing.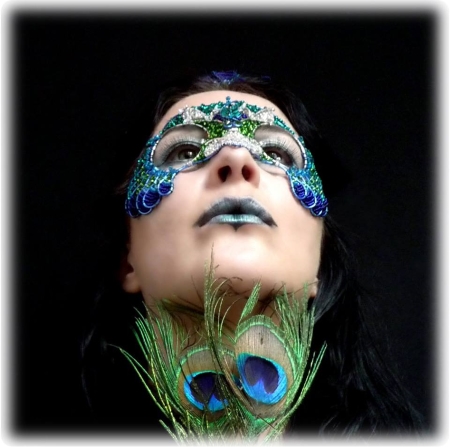 We weren't sure how our products would be received on there but at just 20 cents for a three month listing (currently around 13 pence) with no other fees unless we sold something, it was too good a bargain not to try. We thought we'd just park some of our work there for people to browse while we built our own site but it's still a big part of our business. Most of our sales come from the USA, followed by Australia. UK sales are picking up as it gets better known over here. It's how we were found by a very special customer who gave us our biggest ever order (more on that later).
One of the best things about Etsy from the point of a new seller is the community. We learned so much in our first year about the ins and outs of selling online from pricing to marketing and the deeper mysteries of SEO. We're part of a number of teams on there who have been so incredibly supportive and we're now delighted to be in a position to help others on their way up. Everything that we worked on to make our Etsy shop a success applies equally to any other outlet so it's been invaluable as a place for us to experiment and grow.
Many of our customers on there are new buyers and have simply found us by searching for products on Etsy so it's important to keep up with how their search terms work, as well as providing interest in terms of new designs so people who already follow you stick with you.
If you're new to selling online we think it's an ideal place to start as the framework is already there for you along with an audience that's looking to buy unique and unusual pieces.
Can you describe a typical working day?
We sell mostly online so our day starts with checking our e-mails and various online platforms while the coffee is brewing. Because working from home means there is always some job staring at you from the corner of the room, we try and get out for walks as often as possible. There is a small beach just over the road from us so if we have paperwork to do, we may take that down to what has become our outdoor 'office' – even if you're still working, it's amazing how having open sky above you clears the mind.
What's been your best moment so far?
We'd always joked that one day, someone would commission us to kit out their entire wedding party – then it happened ! We are halfway through an order for 72 masks for a themed party to be held on an island in India. We've done an elephant and a bengal tiger for the couple then it's a mix of peacocks, leopards, monkeys and cobras for the guests. We've been promised photos of the event which we're incredibly excited about. When the enquiry came in, we couldn't quite believe it..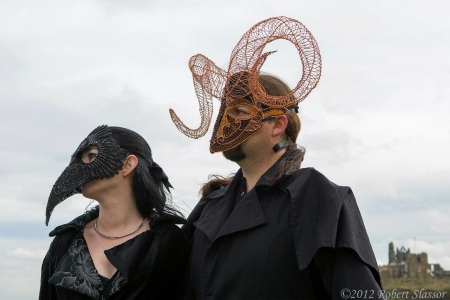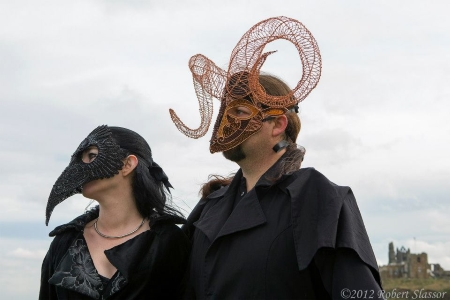 And the worst?
The worst thing about self employment is the periods of quiet. Asides from the financial burden, when you've produced new work, taken your best pictures and posted them everywhere you can think of but still nobody is buying, you start to doubt yourself. It always comes around again though and now we're more established, we manage our time better and take the opportunity to work on aspects of the business we need to catch up on such as our UK website.
Anything you wish you had known when you started?
The importance of good photographs – and how to get them using just what you have available. We've found we need two sets of images for each mask. One plain product shot on white because that's still the format most used by magazines, not to mention the clearest view for the customer, then a more exciting modelled shot so people can see how each piece looks like on.
One of our most popular images to date was taken on a gloomy afternoon, indoors, with a bed sheet for a backdrop using a small make up mirror so I could see the screen on the back of my camera and know when I'd got myself in shot.
What's your biggest challenge going forward?
We set the bar higher each year both in terms of our designs and the overall performance of our business. We are so very lucky to do what we love full time but you can't get complacent and take it for granted.
Do you have a top tip for someone starting out in the wedding business?
Do what you love. It shows in your work – people know true passion when they see it and only something that's come from the heart will have your personal stamp on it which is what will set you apart from everyone else.
Shop for Karen & Rich's gorgeous masks in their Etsy Shop
Follow them on Facebook