Blogs, social media, magazines, wedding fairs – there are so many ways to get your business in front of brides to be.
But for many brides, the first place they are going to look is on Google. Whether they want bespoke vintage style stationery in Boston or cheap chair covers in London, they can type their query into the search box and instantly see lots of options.
Search has evolved a lot in the last few years. It's no longer "one size fits all" and the Google results page can look very different depending on the search phrase used. Google has become very good at interpreting "intent" and working out what the searcher actually means. And it also brings in results from different places.
Depending on the phrase used you might see:
Product focussed results:
Note that in this case there are NO natural search results shown in the top half of the screen (I'm using a laptop). I'm shown Google Shopping (these are paid adverts), Text Adverts and Images.
A simple list: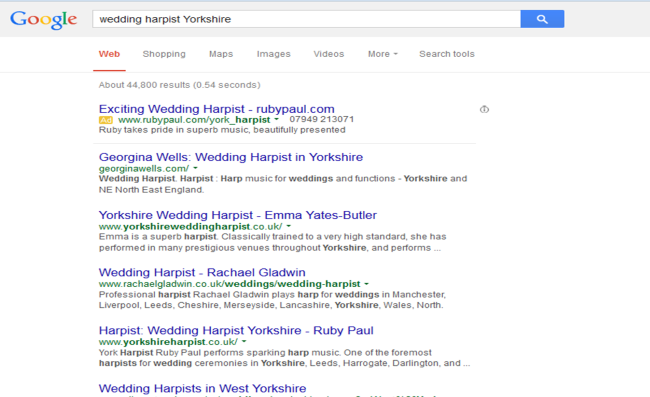 For this more specialist, regional service there is just a single advert followed by a list of relevant websites.
A map: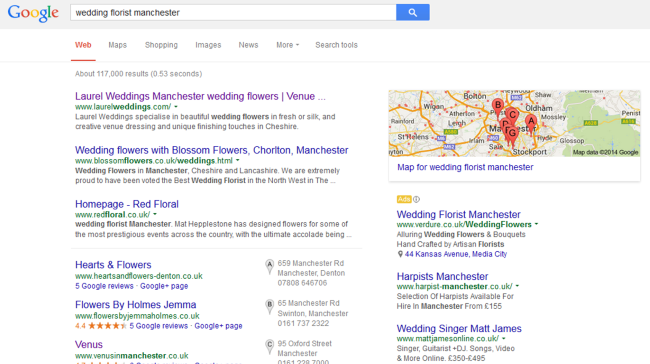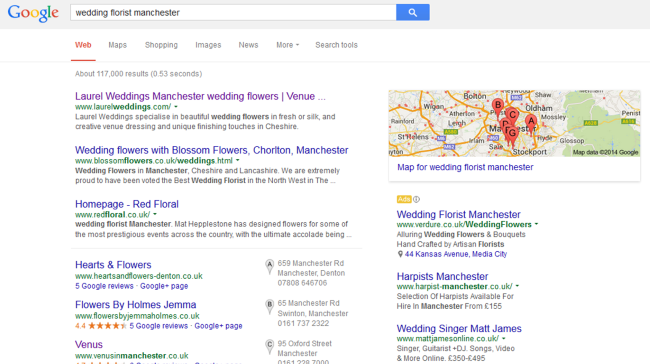 The map results are taken from local search which is different again – a local listing is free through Google My Business but you do need to set it up correctly.
To get your wedding business found on Google you'll need to
1. Understand how people search for your service
You not only need to know the search terms they are likely to use but also how Google interprets these searches and what the results look like. And be warned – these can change. Google is continually updating its search algorithm.
2. Optimise your website
The first thing Google looks for are relevant web pages. So your website needs to let Google know what each page is about – and this needs to align with the searches your potential customers are using. This doesn't mean repeating your keywords endlessly but it does mean using the right words and phrases in a natural way. You also need to use Meta Tags – bits of code that Google uses as a signpost.
3.Build your website authority
The other key part of Google's search equation is authority. Basically, how good does Google think your website is?
In the old days this was all about links to your website. This is still true to some extent today but has become much more complex as Google works to stop people manipulating search results. Nowadays links are still important but you need to be very careful how you get them.
That's the simple guide to search. Watch out for more articles on search in the New Year.
PS: If you'd rather leave it all to the experts, then check out our very affordable SEO package especially for wedding businesses
Save