Jana Svalbe had a successful career in finance but gave it up to follow her dream of owning a bridal boutique with a difference. Her first year has seen amazing highs – and a tough lesson in the challenges of innovation in an established wedding industry.
Here's Jana's story:
What do you do?
MODE Bridal Boutique, based in Brighton and Hove, East Sussex, UK is a luxury bridal studio set up as a part of my home, bringing gorgeous designer wedding dresses to style loving brides.
What was your "big idea"?
After doing some wedding dress shopping with my best friend, I realised that many wedding dresses looked very "samey", were mainly made in China and brides had to deal with a lot of challenges like:
not being able to have their dream dress in time for the wedding because of long delivery times;
having to foot a large bill for alterations after they purchased their dream dress; or
simply having to settle for the second best because there was not enough flexibility to add bespoke touches to their dress to make it perfect.
So I saw a gap in the market and wanted to offer a wedding dress shopping experience with a difference!
Our bridal studio is set up as a part of my home and it is not only luxurious but also totally private, which means that the bride and her party can truly enjoy the experience of choosing the bridal gown.
We offer bridal gowns that are created by renowned British and international designers, and our exclusive to the UK collection by an amazing Italian designer Anna Tumas is an absolute "Jewel in the Crown".
Each wedding dress is lovingly handmade to bride's measurements in designers' own workshops in Italy, Spain, France or the UK. This enables us to offer brides all the flexibility they desire in terms of timescales and design alterations. And at the heart of it all is style, quality and impeccable customer service.
Why did you want to do this?
Opening a bridal shop was about fulfilling a dream and sharing my passion for style, quality and customer service with brides. I truly love working with people and being a small part of their wedding planning journey and sharing those special moments of finding "The Dress" is very fulfilling and emotionally rewarding.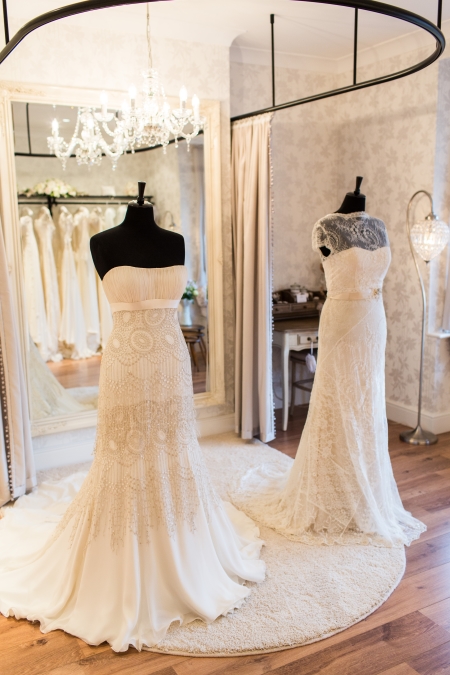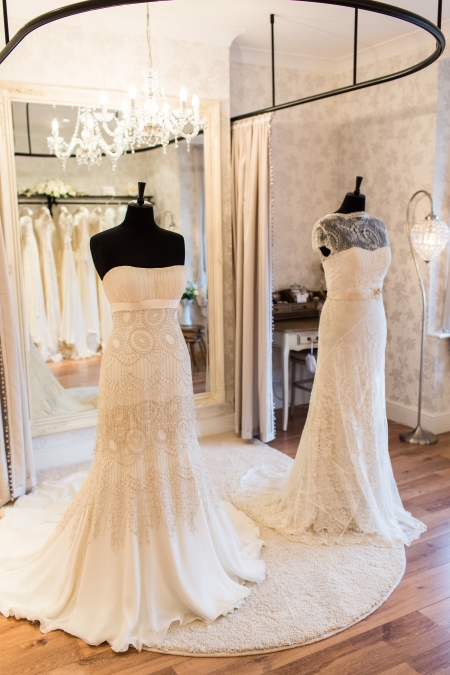 What were you doing before?
I have a degree in Business with several industry qualifications in asset based finance and banking and have spent most of my working life in financial industry. I have worked closely with small business as well as large corporates throughout my career; and have successfully led relationship teams in delivering excellent customer service whilst managing risk responsibly. After building a successful career in finance industry I decide to take the opportunity and fulfil my dream by building my own business.
How has your first year gone?
It has been a fantastic first year! MODE Bridal has participated in some of the country's biggest and most prestigious bridal shows; we have been featured in bridal press; and were nominated a finalist in Bridal Buyer Awards 2015 Best Bridal Website category. The biggest achievement has been the positivity and support we get from our brides. We get fantastic feedback about the selection of our dresses, our studio set up and our customer service. I find reading the overwhelmingly positive Facebook and Google reviews very humbling and it certainly makes all the hard work worthwhile.
MODE Bridal is still a very young business; and now that we have built a great foundation and know that our customers love what we do, we can focus on capitalising on all that positivity and start generating returns on our investment.
What's been the biggest lesson learned?
Being in business is a journey and we have rally learned a lot about things like what works in advertising, brides' buying behaviour and smart use of social media to generate sales.
The biggest lesson though has been about the industry itself and its total resistance to accepting people that work from home as professional and serious businesses. I was so surprised when some industry influencers started using underhand tactics to put pressure on British designers not to deal with us because we were running a bridal business from home. We were absolutely delighted to be given an opportunity to express our opinion on the subject in various press articles and since have received countless words of support from brides and designers a like.
Top tip for other newcomers?
Bridal industry is extremely competitive and with more high street retailers entering the market, it is only set to get tougher. So you need to have an absolute clarity on what makes you different to your competitors, a robust plan on how you will make your business work and a "tough skin" in order to survive and prosper in this industry.
You can find out more about Mode Bridal at www.modebridal.co.uk
and follow them on Facebook and Pinterest
Photo Credits: Jayne Sacco and Amanda Karen Photography