We're always being told that it's important to incorporate video into our marketing. That today's couples (the millennials everyone keeps talking about) are much more likely to respond to visuals and audio rather than text.
But video can be daunting for the small business owner. Professional video means hiring in experts that are beyond the budget of many wedding businesses. While amateur efforts can do more harm than good.
But there are ways you can use video that don't require a lot of investment and will add value for your website visitors and social media fans.
A quick tip for your social media
I've started recording short 1 -2 minute videos with quick marketing tips that I'm posting in our Facebook group. I record them on my tablet with a folding case as a stand to keep it steady. If you want to use your smartphone, you can buy mini tripods very reasonably. Make sure you are well lit with no background noise and check what's behind you!
Think about quick tips you can pass on to your couples. It's a great way for people to get to know you before they book you for their wedding.
It's also an excellent way to practice and get yourself used to recording yourself before you tackle live video.
Product slideshow for your Facebook & Instagram Adverts
If you are advertising on Facebook and/or Instagram and want to showcase what you do, it's really easy to put together a series of images as a slideshow which will appear as an animation in people's newsfeed.
In the space where you'd upload your image, select slideshow and then add 3 or more images.
This is a super-easy way to get some moving images into your marketing without actually recording video.
Behind the scenes for your blog
Customers love to get to know the people behind the business – especially when they are trusting you with their wedding day. And creating little video clips to add to your blog articles is a great way to do this.
Whether it's unpacking new stock, putting together a bouquet or packing up orders to send, videos give you ways you can showcase your business without being all salesy.
They don't need to be long: 2-3 minutes is fine. Again your smartphone should be perfectly acceptable unless you are targeting very high end clients but do make sure the light and sound quality is decent – it's worth investing in a microphone. If you want to do some editing, then there are lots of apps available. I've used Kinemaster.
Facebook Live
Once you are comfortable with recording short clips, it's time to get out your comfort zone and go live!
Facebook Live lets you broadcast video directly to your Friends, Page Fans or Group members. People can engage and comment as you record so it's really interactive.
You can use it to run a Q&A session, for little behind the scenes clips, even customer testimonials. Or broadcast live from events like wedding fairs or photoshoots. The possibilities are endless.
This is definitely one for my to-do list next year!
Instagram Stories
Instagram stories a recent feature – images or video clips with a short (24 hour) lifespan. They don't appear in your main feed but are highlighted across the top bar.
This is a great place for those little "what we're up to now" clips that you take on the spur of the moment and which increase engagement – but are perhaps not as professional looking as your main feed.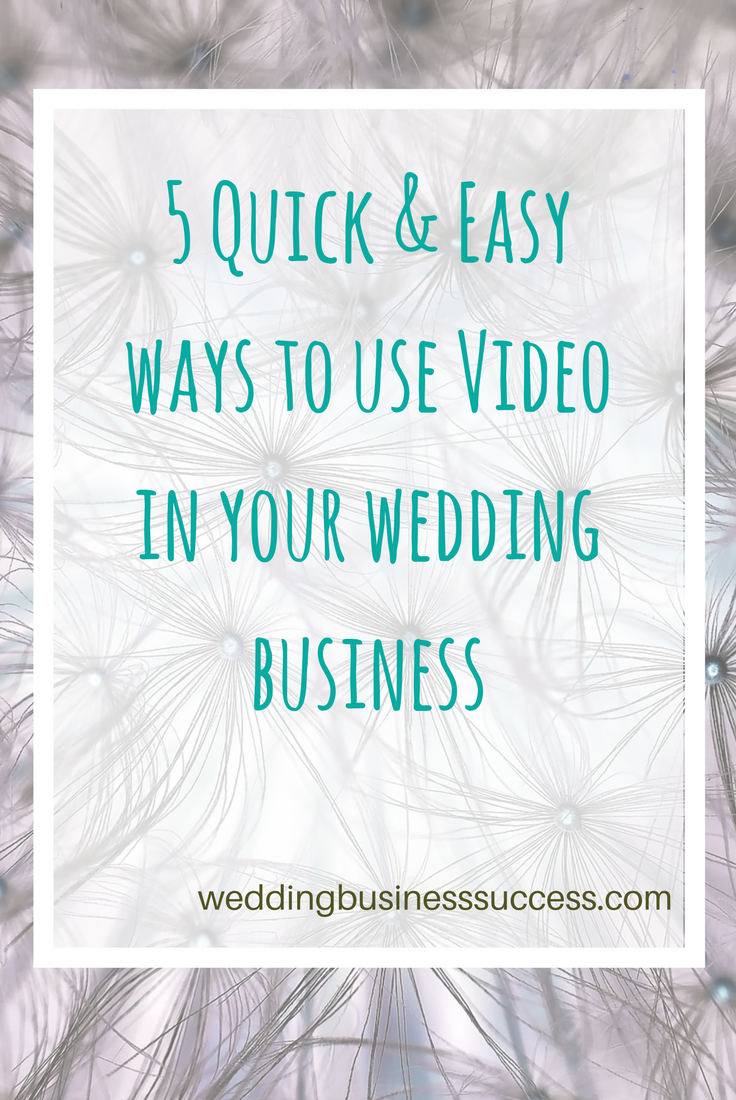 Are you using video in your marketing? Do share your clips and stories in our Facebook group.
Save
Save