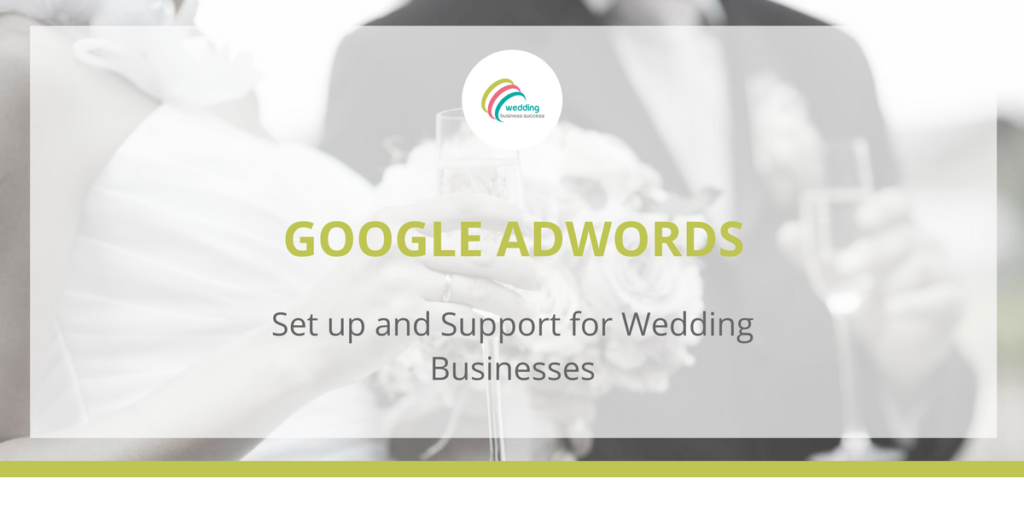 Get set up with Google Adwords
While search optimisation can take a long time to bring results, Google Adwords can get you instantly to the top of the search pages.
Many businesses, including small wedding suppliers like you, use Adwords very successfully. Done well, it's a fantastic way to bring a steady flow of enquiries to your business. Done badly it's a sure-fire way to lose money.
I've been working successfully with Google Adwords for over 12 years, both for my own businesses and my clients. I'd love to help you too.
What's involved?
To start with I'll carry out a free assessment of your business, your competitors and your website. I'll advise whether I think Adwords is the right option for you and the type of monthly budget you'd need (be prepared to spend a minimum of £100 per month).
If you then decide to go ahead, I'll set up your Adwords account for you and manage it for 1 month to ensure it's running properly.
At the end of that month I will either hand the account over to you to run yourself or I can offer on-going management for a monthly fee.
Who is it for
This service is great for:
brand new businesses who want to get up and running with a bang
businesses who cover a wide geographical area
those working in highly competitive areas like photography and venues
those selling products online who'd like to use Google Shopping advert
Already tried to do it yourself?
If you've tried setting up Adwords yourself – tempted by those special offers from Google – but it's just not working for you, I also offer a review and revamp option.
How Much
Adwords Set Up is £350 + VAT for businesses spending up to £500 per month on Google advertising.
How to Order
To book your free assessment (or to find out more) simply call Alison on 0161 883 1655 or email info@weddingbusinesssuccess.com (please put "Adwords" in the subject).